We're tracking the latest on the coronavirus outbreak and the global response. Sign up here for our daily newsletter on what you need to know.
They killed the spring break beach parties in Florida and Alabama, closed schools in Texas, and hinted at shelter-in-place orders like San Francisco's. Some of American officialdom's biggest social-distancing holdouts are folding, while early adopters are issuing further restrictions to slow the spread of new coronavirus.
"This is not a vacation. This is not time for social gatherings," Mayor London Breed said Thursday at a press conference in San Francisco. "We are discouraging play dates and dinner parties and other things you might typically want to do in your homes."
In New Mexico, Governor Michelle Lujan Grisham warned of penalties for businesses that open before April 10, including shopping malls, gyms, movie theaters and restaurant dining rooms. "There are still far too many New Mexicans who are coming into contact with one another," Lujan Grisham said in a statement.
While hard-hit New York, New Jersey, Connecticut and Pennsylvania this week coordinated policy to cut human interaction — business restrictions and 50-person crowd limits, for instance — some other states had taken few, if any, steps to limit the spread. That started to change as cases nationwide spiked and social media buzz grew around deliberately reckless behavior among young adults, who make up one-third of coronavirus cases, according to the U.S. Centers for Disease Control and Prevention.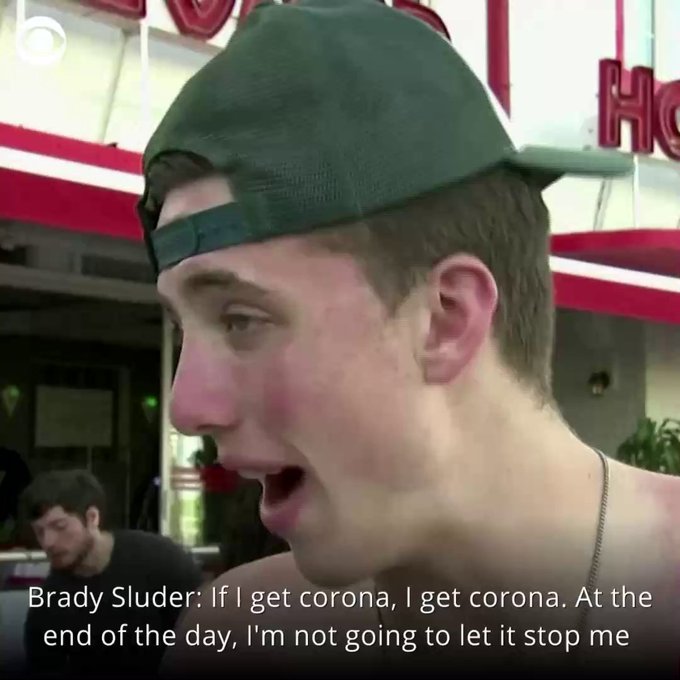 By playing this video you agree to Twitter's use of cookies
On Thursday, Florida officials started closing bars and beaches to hordes of spring break college partiers whose behavior is a challenge in any year, let alone when a deadly virus is rampant.
"The party's over in Florida," Governor Ron DeSantis said on "Fox & Friends."
They also got the boot in neighboring Alabama, which initially had welcomed the booze-and-Airbnb dispossessed. With at least 79 coronavirus cases reported, Governor Kay Ivey enacted orders that went well beyond even those in some Northeastern states: closing beaches, preschools and child-care centers; delaying all elective dental and medical procedures; and limiting gatherings to 25 people.
"We're all stressed about getting enough materials to conduct the Covid-19 tests," Scott Harris, Alabama's state health officer, said at a news conference in Montgomery.
U.S. coronavirus cases on Thursday topped 11,500, more than doubling in 48 hours, and at least 150 people have died, including four members of a single New Jersey family.
Texas Order

Texas health officials identified the state's first coronavirus case March 4, but Governor Greg Abbott had resisted statewide orders, deferring to local officials until Thursday, when the health department reported 143 cases and three deaths. At an Austin news conference, Abbott declared a public disaster, closed public schools for 5 million students and applied restrictions to restaurants, gyms and other businesses. He also put a 10-person limit on gatherings.
"It is imperative that we act now on pre-emptive measures to slow the spread of this virus," Abbott said.
In Illinois, with at least 422 cases and four deaths, Chicago Mayor Lori Lightfoot extended the closing of public schools until April 20. Oak Park, a village neighboring the city's West Side, is under shelter-in-place orders for two weeks, after one case there was reported.
San Miguel County, Colorado, residents Wednesday were told to stay inside until at least April 3, after several critically ill patients and children under 4 years old tested positive.
Louisiana Governor John Bel Edwards said "people ought to start preparing themselves" for such a step. Portland, Oregon's largest city, with about 650,000 people, has drafted but not enacted a shelter order.
The entire state of California fell under a stay-in-place order starting Thursday evening, marking the most stringent U.S. effort yet. The order allows the almost 40 million residents to leave their homes only for items like groceries and essential jobs.
"This is a moment where we need some straight talk," Governor Gavin Newsom said in a press conference. "As individuals and as a community, we need to do more to meet this moment."
In San Francisco, Haight Street tourist shops were shut behind metal gates. "We took it all out" was spray-painted on a plywood-covered window, a tip to potential looters. Golden Gate Park joggers and walkers at times took to the middle of the street. A small lake, usually plied by tiny craft from the San Francisco Model Yacht Club, drew only birds.
In Lakewood, New Jersey, police earlier this week cut short two weddings whose attendance exceeded Governor Phil Murphy's 50-person limit. On Wednesday, Newark, the state's most populous city, instituted an 8 p.m. curfew. The most densely populated U.S. state has reported at least 742 virus cases and 10 deaths — including three siblings and their elderly mother — and Murphy predicted infections would reach "many thousands."
At a Trenton news conference, Murphy implored young people in particular to avoid large gatherings and resist spring break-type antics.
"It is time to cut the crap," Murphy said.
Indeed, it will take the efforts of everyone to quash the virus — young, old, liberal, conservative, not to mention good and bad. In Sterling, Colorado, the Logan County sheriff's office issued a tongue-in-cheek plea for help from its traditional nemeses.
"Due to the COVID-19 pandemic, and its contagious nature, the Logan County Sheriff's Office is asking all criminal activities/nefarious conduct to cease until further notice," the agency said on its Facebook page. "We appreciate your anticipated cooperation in halting crime and thank criminals in advance. We will update you when you can return to your normal criminal behavior."
— With assistance by Vincent Del Giudice, Brenna Goth, and Henry Goldman
Source: Read Full Article