New York (CNN Business)Condé Nast has tapped award-winning publishing industry executive Dawn Davis to be the next editor in chief of its popular food brand Bon Appétit.
Her appointment follows the resignation of editor-in-chief Adam Rapoport on June 8 over accusations of bias and a discriminatory culture. In an apology letter published two days later on its website and addressed to its readers and contributors, Bon Appétit said it would prioritize people of color for consideration to fill the editor in chief position.
Condé Nast declined to comment on Davis' compensation.
Davis is among the few influential Black executives at major publishing houses. During her more than 25 years in the industry, she has overseen the publishing of stories from marginalized voices. Her work includes the Pulitzer Prize winning "The Known World" by Edward P. Jones, the award-winning "Heads of the Colored People" by Nafissa Thompson-Spires and New York Times best seller "The Misadventures of Awkward Black Girl" by Issa Rae. In 2013, she launched 37 Ink, an imprint of Simon & Schuster, where she serves as vice president and publisher. Davis starts at Bon Appétit on November 2.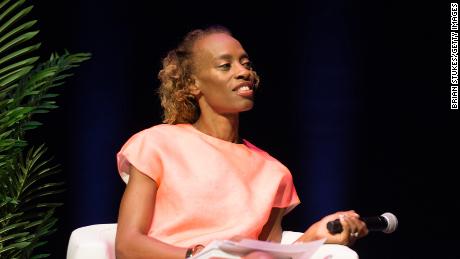 "I'm hoping to create the kinds of menus that appeal to people across economic spectrums, across levels of sophistication in the kitchen," Davis told CNN Business. "I'm also hoping to tap into my particular asset, which is a Rolodex over 25 years of working with writers, some from marginalized communities, and elevating those voices and those experiences."
The staff at Bon Appétit has spent the summer dealing with the fallout of multiple crises that include accusations of racism and pay disparities. Management acknowledged these problems in the June 10 apology letter and vowed to implement "anti-racism training for our staff, and [resolve] any pay inequities that are found across all departments." But in August, several journalists of color announced that they will stop appearing in Bon Appétit's popular Test Kitchen video series after contract negotiations for equitable pay with Condé Nast Entertainment — the video division overseeing the Test Kitchen content — fell apart. A third-party investigation found that "everyone was compensated fairly," according to a staff memo obtained by CNN Business.
Davis declined to say definitively whether she would invite those journalists to return to the negotiating table.
"I want the most talented people to work at Bon Appétit," she told CNN Business. "I want them to feel that if they have a contribution to make and they see the culture as being different then I want them to have a dialogue with us. But it's too early to say really until I get there and really see."
Davis' job will include overseeing print, digital, social and video.
"I think that aesthetically it should feel unified, and I feel that the producers could produce the kinds of recipes and be part of the kinds of stories we want to put in the magazine and in other ways that would expand the brand," Davis said.
Davis has both published and authored books about the food industry during her time in publishing. In her 1999 book, "If You Can Stand the Heat: Tales from Chefs and Restauranteurs," she profiled chefs such as Bobby Flay and Anthony Bourdain. She also loves cooking at home, telling CNN Business that her favorite items to cook are soup and fish.
Davis will be joining other new managers that Condé Nast has brought in amid the reckoning at the brand. Sonia Chopra started as executive editor at Bon Appétit on August 24. She previously oversaw strategy and operations at Vox Media's food site, Eater. Chef and author Marcus Samuelsson is guest editing the brand's holiday issue and serving as an ongoing content advisor.
Davis told CNN Business she wants Bon Appétit to cover food through the lens of commerce and community along with issues surrounding inequity and the environment.
"I want this to be a cultural magazine where the primary culture is food, but not something that's in a vacuum, and I hope it's fun," Davis said. "I want it to be a brand that makes you think critically, but also that's fun for you."
Source: Read Full Article