New York (CNN Business)Robinhood's free-trading ethos turned the online brokerage industry on its head.
Established players were forced to rewrite their business models by abolishing commissions. The extreme disruption even prompted the blockbuster merger of industry leaders Charles Schwab (SCHW) and TD Ameritrade (AMTD).
Robinhood, the zero-commission online broker that recently surpassed 10 million users, is celebrating the rapid change it helped usher in.
"Robinhood pioneered commission–free investing in stocks," Vlad Tenev, Robinhood's co-CEO, told CNN Business. "We can be really proud of not just creating a world where our own customers don't pay commissions, but customers of other brokerages have benefited as well."
Robinhood launched six years ago with a no-commission promise and a desire to focus on millennials. It's now viewed as a potential candidate to go public in 2020.
The startup's impact was on full display this fall. In the span of just days, nearly every major online brokerage company eliminated commissions for buying and selling stocks. Shares of Schwab, E*Trade Financial (ETFC), Interactive Brokers (IBKR) and TD Ameritrade all plunged on the news.
"We celebrate the progress, certainly," Tenev said.
In many ways, it was a validation of the strategy Robinhood adopted from day one.
"It just didn't make sense," Tenev said of the trading commissions charged to buy and sell stocks. "These were purely electronic transactions."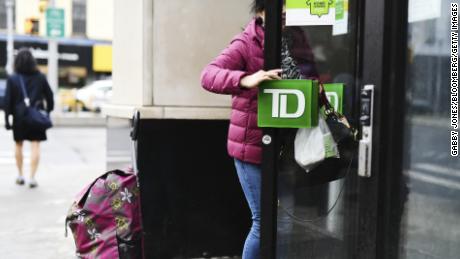 After its rivals embraced zero commissions, Robinhood released an ad with the tagline: Change Doesn't Happen Overnight Until it Does.
Yet the rapid adoption of free trading wipes out the big differentiator that made Robinhood stand out from its rivals. The startup will face tougher competition going forward. Retail investors now have a bevy of choices for free trading.
"Our work is just in the beginning stages," Tenev said.
Buying a piece of Amazon for just $1
That's why Robinhood announced a series of new features on Thursday, including the launch of fractional share trading. That feature will allow investors to invest in stocks and ETFs with as little as $1 — regardless of the price tag.
Some young investors may balk at cost of even buying a single share of Amazon (AMZN), Berkshire Hathaway (BRKA) and Google owner Alphabet (GOOGL) — each of which are priced at north of $1,000. Even Apple (AAPL) stock is priced at nearly $300.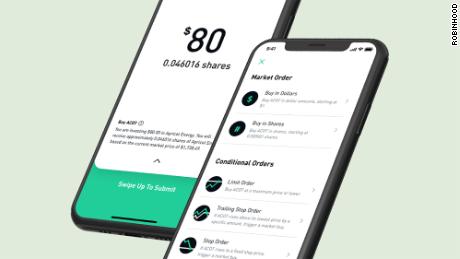 It's a nod to the fact that more than half of Robinhood's customers are first-time investors.
"These brands weren't accessible to some of our customers because stock prices were hundreds, thousands or even hundreds of thousands of dollars," said Abhishek Fatehpuria, product manager at Robinhood. "It shouldn't matter how much money a customer has to invest."
Not surprisingly, Robinhood said fractional share trading is commission-free. It is scheduled to launch to the first set of customers next week and then to all Robinhood users early next year.
Robinhood is trying to beat its larger rivals to the punch on fractional share trading, on both individual stocks and ETFs.
Charles Schwab told The Wall Street Journal in October that it would introduce fractional share trading for individual stocks. However, that program hasn't launched yet and will initially only focus on individual stocks, not ETFs. Schwab told CNN Business it will be available "some time in 2020."


Robinhood also rolled out other new features, including a dividend reinvestment plan that will automatically reinvest cash dividends back into stocks and another program that lets users schedule recurring investments.
What's next for Robinhood?
Looking ahead, Robinhood could make another big splash on Wall Street in 2020, this time by going public. Robinhood is rumored to be among the companies considering an IPO, along with Airbnb, mattress company Casper and food delivery service Postmates.
Some of 2019's biggest IPOs, including Uber (UBER) and Lyft (LYFT), were big disappointments because of concerns about their long-term path to profitability.
Robinhood's Tenev declined to comment on whether the company is currently profitable. But he did say Robinhood is unlikely to follow in the footsteps of TD Ameritrade by teaming up with a larger rival.
"It's not in our plans. The plan is to be an independent company that continues to grow quickly," he said.
Source: Read Full Article