Investors are showing some interest in the downstream energy cycle.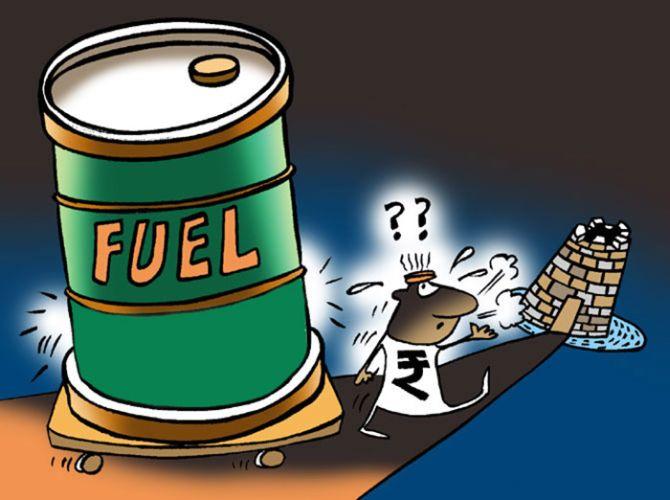 Refiners and marketers, especially the public sector (PSU) oil marketing companies (OMCs) could see a revival of marketing margins.
Lower crude oil and gas prices may also improve margins in industries like paints, logistics, synthetic fabrics, plastics, and fertilisers.
In the medium-term, however, there could be a supply overhang affecting OMCs as new refining capacities are scheduled to be commissioned, especially in China, and this may lead to a drop in the refining margins as capacity would be surplus to demand until and unless there's a pick-up in global growth.
In FY23, the Indian crude basket averaged $93.15 per barrel and it is down to an average of $77.92 in April-June 2023 (so far).
A rough calculation suggests OMCs have a breakeven point of around $85-86 where gross marketing margins (GMMs) are concerned.
So they suffered under-recoveries through much of FY23, since prices came below that level only from December 2022.
In addition, access to discounted Russian crude could boost gross refining margins (GRMs) by up to an estimated $3 per barrel.
Discounted Russian crude is now around 25-30 per cent of imports, post the EU ban on Russian imports from December last year.
Adjusted for cost of insurance, transportation, etc, the net discount on Russian crude is $10 per barrel.
If OMCs can maintain current marketing and refining margins, they could wipe off FY23 accumulated losses by end-July 2023.
However, political considerations appear with five assembly elections due in late calendar 2023 and a general election in 2024.
This could lead to retail price cuts.There are some other geopolitical considerations.
One is that Organisation of the Petroleum Exporting Countries (Opec) and Opec+ (including Russia) may cut production to maintain international prices.
Second, if there's a resolution to the Ukraine War, Russian sanctions may be lifted and hence, discounts may end.
In addition, investors will also have to assume full compensation for under-recovery from the government of India.
Every $1 per barrel decline in crude oil price helps to boost blended GMM by Rs 0.5 per litre (amounting to Rs 7,300-7,500 crore on annualised basis based on annual volume of 145-150 bn litres).
The break-even Brent crude price for OMCs is $85 per barrel to earn a blended GMM of Rs 3.5 per litre.
Blended GMM is around Rs 7.4 per litre at $77-78 per barrel vs. negative Rs 4.6 per litre in FY23.
Assuming Russian imports continue and other variables don't change, OMCs could be annual beneficiaries with Indian Oil Corporation (IOCL) gaining Rs 15,500 crore and Bharat Petroleum Corporation (BPCL) Rs 7,200 crore, and Hindustan Petroleum Corporation (HPCL) Rs 5,200 crore.
In FY23, earnings before interest, taxes, depreciation, and amortisation (Ebitda) declined from average normalised levels as follows, according to an analysis by JM Financial. For FY23, consolidated Ebitda for IOCL was Rs 26,100 crore vs normalised Ebitda of Rs 33,000 crore; BPCL was Rs 10,900 crore vs normalised Ebitda of Rs 16,000 crore; and HPCL was Rs 5,700 crore vs normalised Ebitda of Rs 13,000 crore.
Combined Debt for these three OMCs rose to Rs 2,32,900 crore, up by Rs 45,300 crore in FY23.
By end-July 23, the Ebitda shortfalls of about Rs 19,000 crore could be wiped out given the current GMM trends.
Incidentally, private players (including Reliance Industries) which lost market share during FY23 are now selling diesel at a discount of Rs 1 per litre to try and regain share.
Putting it all together, there could be a short-term to medium-term opportunity for gains for investors who enter the OMCs at the current reasonable valuations.
Disclaimer: This article is meant for information purposes only. This article and information do not constitute a distribution, an endorsement, an investment advice, an offer to buy or sell or the solicitation of an offer to buy or sell any securities/schemes or any other financial products/investment products mentioned in this article to influence the opinion or behaviour of the investors/recipients.
Any use of the information/any investment and investment related decisions of the investors/recipients are at their sole discretion and risk. Any advice herein is made on a general basis and does not take into account the specific investment objectives of the specific person or group of persons. Opinions expressed herein are subject to change without notice.
Source: Read Full Article