Reflecting strong momentum in business, commercial banks, including one public sector lender, reported a year-on-year (YoY) growth in advances.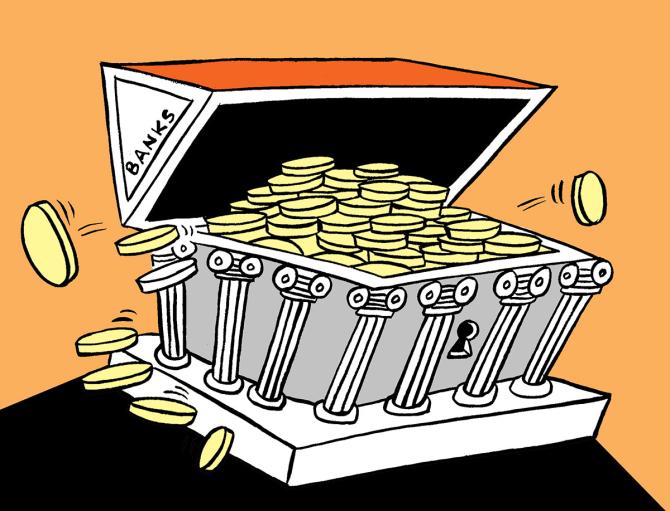 This was higher than or around the banking sector trend in the first quarter ended June 2023.
Bank of Maharashtra said its loans expanded by 25 per cent YoY to Rs 1.75 trillion.
This pace was much higher than the banking system's 15.4 per cent growth till June 16, 2023, according to Reserve Bank of India (RBI) data.
Private lender Federal Bank has posted 20.9 per cent growth in advances at Rs 1.86 trillion in the quarter ended June 30, 2023 (Q1 of FY24).
Sequentially, the growth in loans was 5.2 per cent in Q1 over the quarter ended March 2023.
Medium-sized private lender South Indian Bank reported 14.53 per cent growth in advances at Rs. 74,107 crore in Q1.
Karur Vysya Bank's loans posted a 13.95 per cent growth at Rs. 67,105 crore.
Finally, small Kerala-based Dhanlaxmi Bank's loan book expanded by 15 per cent to Rs. 10,044 crore.
Banks, across the board, have been active in mobilising funds to meet loan demand.
This has led to an increase in the rate of deposit growth (YoY).
RBI data showed that banking liabilities grew by 12.1 per cent YoY till June 16, 2023, compared to 8.3 per cent a year ago.
Bank of Maharashtra's deposit base expanded by 24.73 per cent YoY to Rs. 2.44 trillion and Federal Bank reported 21 per cent YoY growth at Rs. 2.22 trillion.
South Indian Bank's deposit growth was below the industry trend at 8.31 per cent. Karur Vysya Bank posted a 13.75 per cent growth and Dhanalaxmi Bank 6 per cent.
The share of low-cost money — current account and savings accounts (CASA) — in total deposits remained under pressure in the reporting quarter (Q1).
It came down sequentially and also in comparison to the same quarter year ago.
Showing the impact of higher interest rates, term deposits seemed to have continued to attract higher amounts in the first quarter.
Bank of Maharashtra said its CASA share was down to 50.97 per cent in June 2023 from 53.38 per cent in March 2023 and 56.08 per cent in June 2022.
In the case of Federal Bank, CASA share declined to 31.85 per cent at the end of June from 32.68 per cent in March. It was 36.84 per cent a year ago.
The decrease in CASA ratio was less intense for South Indian Bank.
It moved down to 32.63 per cent in June from 32.98 per cent in March and 34.39 per cent a year ago.
Source: Read Full Article