For a fresh perspective on the stories that matter for Australian business and politics, sign up for our new weekly newsletter.
Australia will enforce more stringent controls to slow the spread of the coronavirus, closing pubs, casinos, restaurants and other venues from Monday after the number of infections surged past 1,000.
Prime Minister Scott Morrison said authorities were compelled to ramp up their response after many Australians flouted social-distance guidelines, with thousands of people flocking to beaches at the weekend and socializing in bars.
"What we saw was a disregard of those social distancing practices as people turned up to the beach in large numbers and crammed venues," Morrison told reporters in Canberra after a meeting of the national Cabinet late Sunday. "That sent a very clear message that social distancing practices are not being observed as well as they could be."
Classrooms should remain open until the end of this term, though parents could take their children out of school if they preferred, Morrison said. Casinos, nightclubs, gyms, churches and other places of worship are among other venues that will be closed under the Stage 1 measures that will be reviewed monthly.
Australia joins countries worldwide struggling to convince communities to heed health warnings. In the U.K., social-distancing efforts also failed to sufficiently stem infections and Prime Minister Boris Johnson has closed pubs, restaurants and leisure centers. U.S. President Donald Trump has also urged the younger generation to be more cautious to reduce the risk of infecting more vulnerable elderly.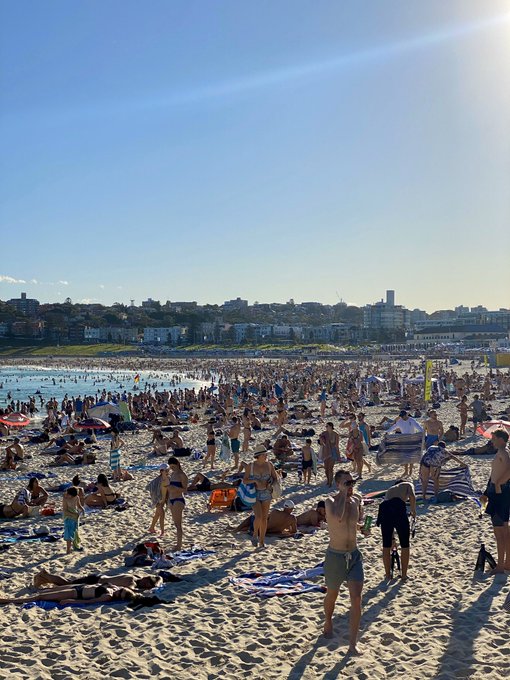 Behind Australia's pleas to take the threat seriously lies the fear the country could plunge into a crisis similar to Italy, where coronavirus deaths surpass those even in China. Total infections in Australia reached 1,098, the federal health department said Sunday. That's a jump of 224 from the previous day. Seven people have died.
"Social distancing, keeping healthy physical distance between individuals is our biggest weapon in fighting this virus and saving lives," Morrison said, flanked by the nation's chief medical officer.
The prime minister earlier Sunday announced a second stimulus package aimed at limiting the economic havoc of the outbreak.
New South Wales and Victoria, the two most-populous states, said Sunday that while supermarkets, petrol stations, pharmacies and freight and logistics will remain open, non-essential activity will be stopped over the coming 48 hours. Victorian schools will begin Easter holidays a few days early from Tuesday and whether they reopen will depend on medical advice.
Anyone entering the states of South Australia and Western Australia from Tuesday must isolate themselves for 14 days, measures already taken in Tasmania and the Northern Territory. Mark McGowan, Western Australia's premier, said Sunday his government plans to acquire hotels to isolate people, and may turn Rottnest Island, a tourism hotspot 19 kilometers off the coast from Perth, into a quarantine zone.
Critical mining, and oil and gas operations will continue, with about 2,500 resources-sector workers continuing to travel to Western Australia from interstate, the Australian Associated Press reported.
The Australian Football League suspended the rest of the 2020 season after the government said all non-essential travel should be canceled.
Authorities have grown exasperated with people ignoring physical-separation advice — not least at Sydney's Bondi Beach, which was closed by police after thousands flocked to the iconic landmark.
"What happened at Bondi Beach yesterday was not alright," Morrison said earlier Sunday. "People cannot be cavalier about these things and must take them extremely seriously because lives and livelihoods are at stake."
Politicians have repeatedly asked citizens to keep 1.5 meters apart from each other. Outdoor gatherings have already been capped at 500 people, and indoor gatherings above 100 people banned.
Authorities are also scrambling to cope with outbreaks of the Covid-19 virus on cruise ships.
New South Wales said Sunday it is tightening protocols for handling illnesses on vessels after the number of cases linked to a ship that disembarked in Sydney on Thursday surged. Going forward, the state health department will hold all cruise ships in port until any patients with respiratory issues are tested.
Some 2,647 passengers were allowed to leave the Ruby Princess ship, despite a group reporting flu-like symptoms during the cruise. Three passengers and a crew member subsequently tested positive and that number has now risen to 26.
Source: Read Full Article